We all want to get noticed when applying for a position, but the hard truth is that if your CV doesn't stand out, no one will notice you. On average, a recruiter spends between 6-8 seconds looking at a CV before they decide if you are suitable for the vacancy or not. We spend more time looking at a menu at the restaurant. The composition and key terms are crucial for any candidate applying for a position, even for AI and algorithms to consider your application.
A CV must include the following:
Contact information
Personal profile
Work experience
Education
Skills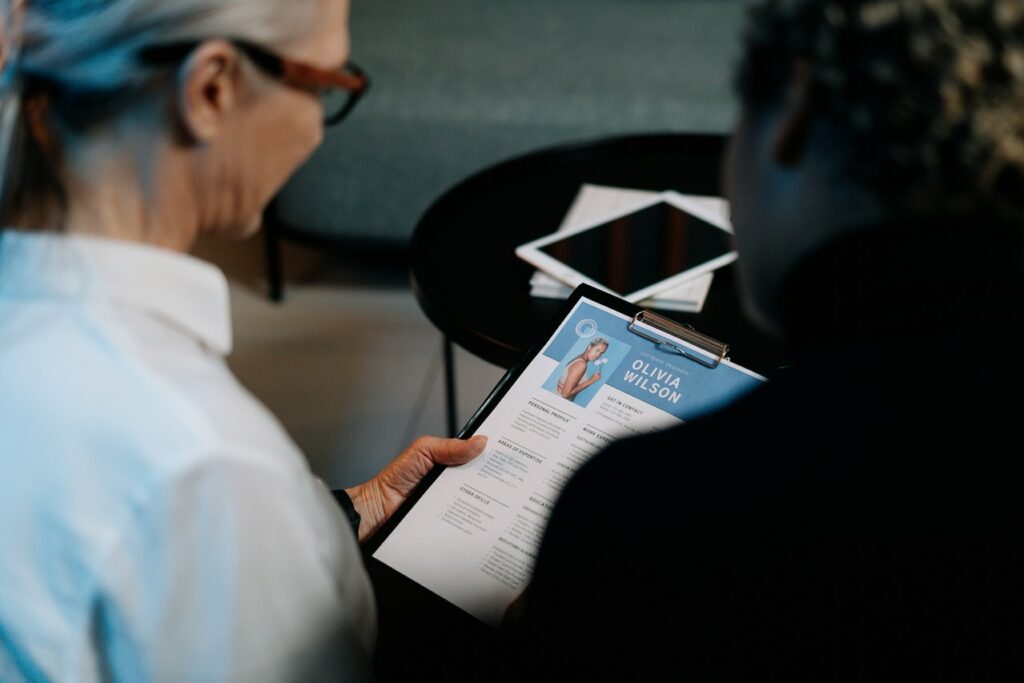 Get creative when putting your CV together or applying online, make sure your content is relevant with a twist. New trends include adding multi-media to your content, like attracting recruiters with an introductory video clip along with your CV, or even describing how you would make a great contribution to their company. If you want to become a web developer for example you can create a dummy website to showcase your skills, where the link is included in your CV.
In this day and age, a normal CV would not cut it and popular platforms, like LinkedIn, will hugely contribute that you have a better chance of getting noticed by top recruiters, as most recruiters make use of LinkedIn to search for possible candidates. Recruiters and companies are aware that social media platforms are an extension of an individual's branding. A study done in 2020 indicated that 70% of employers made the screening of candidates' social media profiles a part of their hiring process. The study further indicated that 78% of employers feel that current employees must have a work-appropriate social media profile. Social media platforms can also be used as a great tool to market yourself, as you can add creative content and show off your skills and interest. But be cautious about what you are posting, as someone might be watching
RELEVANT CONTENT THAT MAKES A SPLASH
Cover letter or Biography
83% of recruiters agree that a well-written cover letter or Biography will give a candidate a better opportunity to demonstrate that they are the best fit for the position within the company.
Work experience and skills
The information must be communicated in the most concise form. Recruiters lean towards the skills an applicant possesses instead of the theoretical knowledge obtained through educational institutions. This section must showcase your roles and responsibilities; it must offer more than just a list of your responsibilities and focus on your core skillset. Job titles must also be clear, as it will increase direct matches for searches. Include the experience you have gained and how you've added value and contributed to various aspects of your position. Lastly, always ensure your dates of employment are correct and that you give reasons for moving from one employer to another.
Education, results and achievements
Ensure all relevant educational certificates are focused on if it is a prerequisite requirement. Recruiters and hiring managers like to see results. Through your CV you should demonstrate how you have overachieved.
Your education section can be listed as follow:
The name and location of the school or institution you attended.
The qualification you obtained, along with your graduation year (if applicable).
If the field of study is specialized, the subjects of your highest degree can be included, especially if your qualification should match the requirements of the job you are applying for. You can include the marks you obtained, but rather leave it out if you just passed.
You can further list the achievements you have accomplished during your education. Although education is an important part of your CV, it should be the shortest portion of your resume.

FINAL TIPS WHEN COMPILING YOUR CV:
Always be honest.
It must be easy to read. Make sure the content is clear and relevant without any spelling errors. Stick with one font, use bullet points to list achievements and bold can be used to highlight certain events.
Ensure that there are no inconsistencies in the info as well as the formatting.
Avoid job-specific abbreviations, as recruiters or hiring managers are not always experts in your specific field.
Format and name of the file. Make sure that the format of the document will open on any computer. Always include your name in your saved title.
Reverence lists must be included to ensure you do not hold back the recruitment cycle.
Always ensure that the information recruiters request is included in your CV.
Hobbies and interests are redundant and should not be included. Should you have less than one year of professional work experience hobbies can be included.
Make sure your CV is long enough to cover everything (skillset and all relevant information) but must be short enough to keep it interesting.
Ensure that your CV is accompanied by a cover letter or short biography.
Remember: As with the marketing of products or brands, you must also market yourself. By showcasing your talents through a well-put-together CV you will ensure that you grab the attention of Recruiters or Hiring Managers.

Other posts you might find usefull: 7 Tips to prepare for an interview